……. There is an equal chance for rainfall to be below normal, normal or above-normal this season……
Based on a number of global models, historical data and subjective input, the following forecast has been made for the island of St. Maarten for the next three (3) months — namely May to July 2017.
Based on the Precipitation Outlook for the Caribbean for the months of  May-June-July, rainfall for the Northeastern Caribbean including St. Maarten is predicted as follows:
33% Chance of being Above Normal (more than  281.1 mm/11 in)
33% Chance of being Near Normal 194.1 mm – 281.1  mm/8 in- 11 in)
33% Chance of being Below Normal (less than  194.1 mm/8 in)
This means, that there is low predictability in this season's forecast.  Therefore, there is an equal chance for any of the categories below- normal, normal or above normal to occur. . For May and June,  there are  usually more frequent showers as transition into the wet season begins but in July there is often a mid-summer dry spell..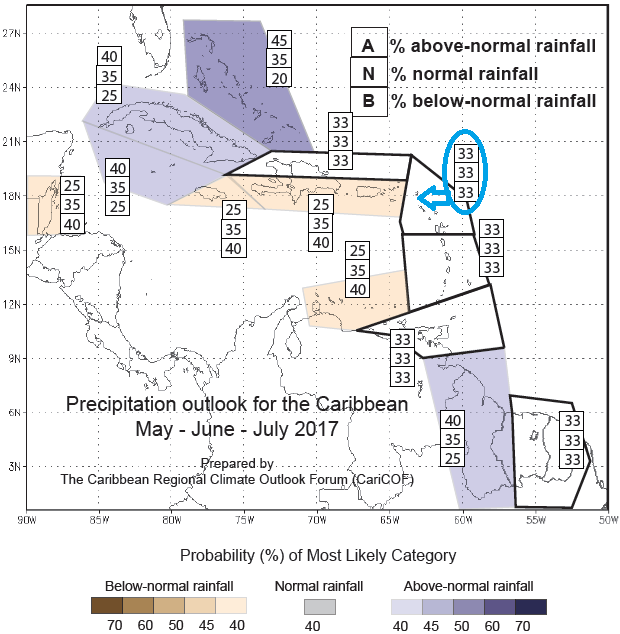 For more information:Caribbean Drought Bulletin; Latest Caribbean Outlook Newsletter, Latest Coral Reef Watch Disclaimer:
This information is provided by the Meteorological Department of St. Maarten in collaboration with CARICOF. There are no guarantees concerning the accuracy, totality, reliability, or suitability of this outlook. The information may be used freely by the public with appropriate acknowledgement of its source, but shall not be modified in content and then presented as an original material.